For a kid in Bombay in the '80s, there wasn't much choice as to what to watch on TV. We had, what, two channels? You could count the number of kids' shows on your fingers. One of the most popular of these shows was an old '60s Japanese series called Giant Robot. Actually, it was called Johnny Sokko and his Flying Robot, but we just called it Giant Robot because it was about, well, a giant robot.
Doordarshan knew that we couldn't really be choosy about what we watched, so they probably bought the rights to broadcast this extremely low-budget show quite cheaply, knowing we would lap it up anyway. And lap it up we did; Giant Robot became our most popular Japanese import after Fusen Gum.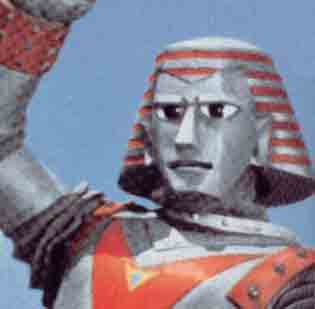 Now, when I call this a low-budget show, I'm not saying it was bad. Keep in mind that our generation had not quite acquired the jadedness it has today; so we could appreciate it for what it was: a show about a kid who commands a 500-ton papier mâchè robot. If all these TV channels today want to tap into the 18-25 demographic they keep talking about, they should stop showing all this saas-bahu soap opera crap, and just show Giant Robot 24/7.
I'm a little hazy about how the series began, because they haven't ever shown it since the '80s. As far as I remember, though, it starts with an evil spaceship from the planet Gargoyle, carrying the even more evil Emperor Guillotine with his most evil plans to rule the world. The spaceship disappears into the ocean, where it serves as the Emperor's headquarters. Meanwhile (or later, who knows?) this kid Johnny Sokko is on a passenger ship from Japan to Hawaii when he meets Jerry, who says he's a reporter but is actually an agent for UNICORN, an international peace-keeping secret police force. UNICORN was like, the coolest organisation to be in: if you meet another UNICORN member, the password is "Napolean Trump Card", to which one replies "Fifteen of Diamonds". And the only way to enter their headquarters was to go into a telephone box and dial "000".
But I digress. The passenger ship is attacked by a sea monster, and Johnny and Jerry swim to an island where they are captured by the Gargoyle Gang, a secret terrorist organisation working for Emperor Guillotine. They escape to an underground base where they come across Emperor Guillotine's secret weapon: a giant robot! They also meet the scientist who was captured and forced to build the giant robot... he reveals that the robot can only be activated by the first voice it hears through a wristwatch designed to command it. Bet you know what's coming. Anyway, Johnny jokingly shouts some shit into the watch before they try to escape. The scientist dies, there's an explosion, and the robot comes to life. Since Johnny was the first to speak into the wristwatch, he now commands the robot. So he orders it to fly them back to Tokyo, where he is made UNICORN Agent U-7. Needless to say, the Emperor is pretty damn pissed off about all this. He gets his cronies to command the sea monster Dracolon to get it back. Big fight. Giant Robot wins. End of first episode.
Every episode followed pretty much the same pattern: Emperor Guillotine wants the robot back, so he does all kinds of crazy shit. Lots of fighting and monsters. Due to the show's low budget, they ended up using a lot of the stock footage over and over, but hey, didn't matter.
It's been ages since anyone's seen an episode of this show... for some reason they never showed it again. So let's do the next best thing: let's reconstruct from memory and create our own Giant Robot episode!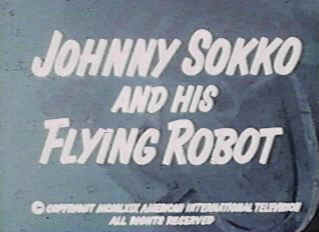 (Theme music: too too to too, too too to too, to to too to too too...)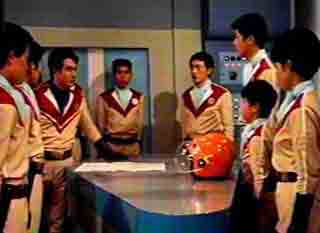 UNICORN Commander: Gentlemen, even though we are an international police organisation with military bases around the globe, we are completely fucking useless without Johnny Sokko. So it gives me great pleasure to present him with this standard issue cool orange helmet. Wear it with pride.
Agent U-4: But Commander, that's my helmet. I use it to impress the lay-dees.
UNICORN Commander: Dammit, Agent U-4. When you command a 500-ton papier mâchè robot, we'll get you another helmet. Now quit whining or I'll confiscate your Tamagotchi.
Johnny Sokko: Thank you, Commander. I'll put it on right away so I can practice walking into brick walls.
UNICORN Commander: That boy is going places.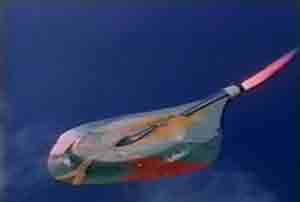 Meanwhile, in the secret underwater spaceship of Emperor Guillotine...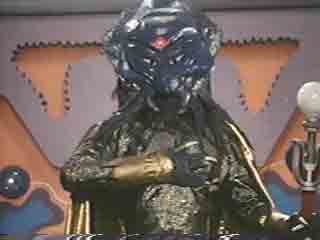 Emperor Guillotine: I will wait here for my man tonight, it's easy when you're Big in Japan. When you're big in Japan, tonight... Big in Japan, be tight....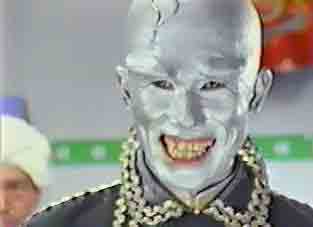 Dr. Botanus: Sorry to interrupt you, Emperor, but there's an incoming transmission from Gargoyle headquarters.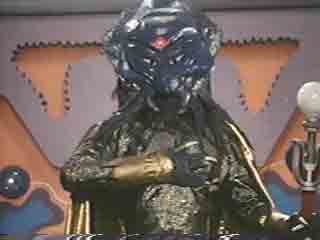 Emperor Guillotine: Ah, Silver Guy. Where have you been?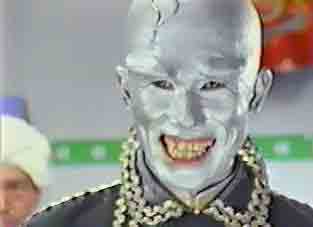 Dr. Botanus: For the last time, sir, my name is Dr Botanus.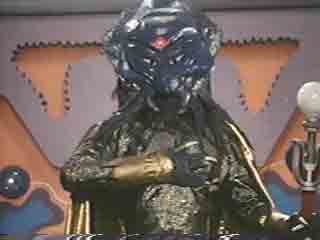 Emperor Guillotine: Nonsense. You know the kids are never going to remember that name. Silver Guy it is.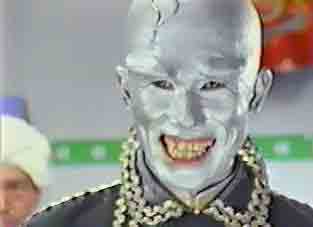 Dr. Botanus: When you belittle me in public like this, I feel you don't respect my worth as a person.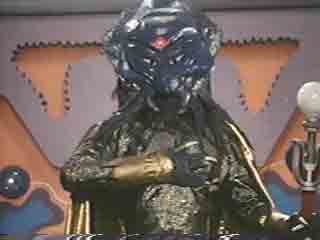 Emperor Guillotine: Oh, boo hoo. This planet is really getting to you, Silver Guy. Are you going to put that transmission through or what?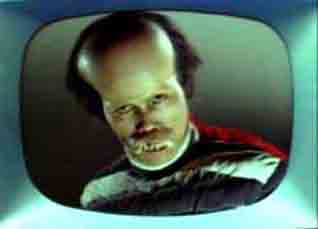 Fangor: Greetings, Emperor Guillotine. We're ready to carry out your evil master plan. The boys and I, we thought we'd prepare a little surprise for you... take a look at monitor #2.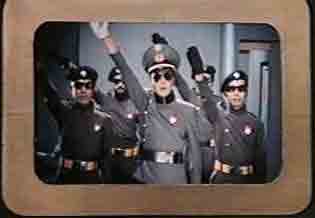 Bad Guys: All hail Emperor Gulliotine!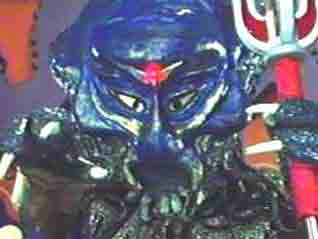 Emperor Guillotine: What the fuck are you guys doing?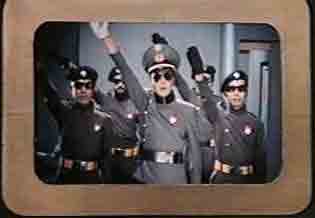 Bad Guys: We just thought we'd dress up for you, seeing as we know how much you like cool threads and all. Can we put our arms down now?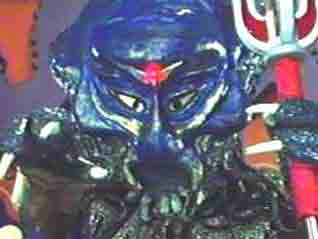 Emperor Guillotine: No! As a punishment for your gross stupidity, you must keep your arms up like that for this entire episode.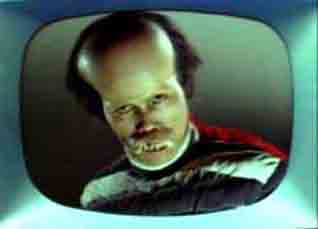 Fangor: Speaking of this episode, sir, we've been on air for 10 minutes without unleashing any monsters on Tokyo. May I rectify this?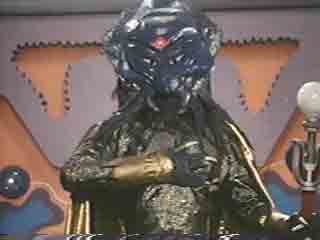 Emperor Guillotine: Damn right. Silver Guy, meet Weird Head Guy. I have a feeling you'll get along great.
Back at UNICORN Headquarters...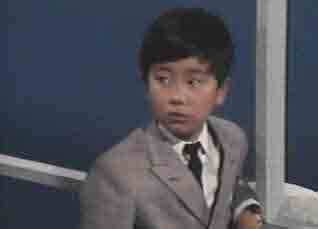 Johnny Sokko: Damn, I look sharp in these threads. Although, for some reason I am vaguely bored. I have a feeling something should be happening just... about...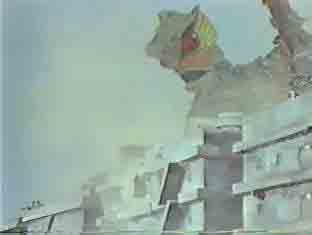 Dracolon: RAAARRRGGHHOOWW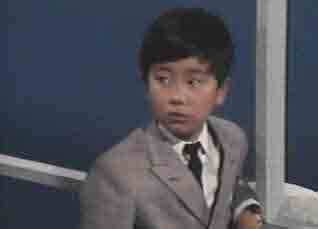 Johnny Sokko: Oops, was that me?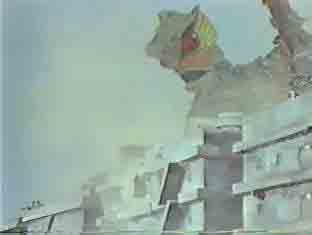 Dracolon: GAAAAAHHHHH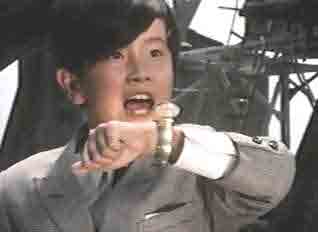 Johnny Sokko: No way that was my bowels! Come on Giant Robot!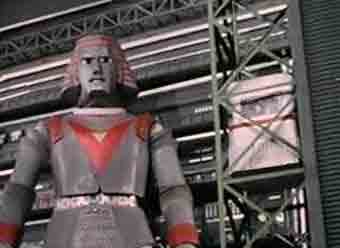 ... ... ...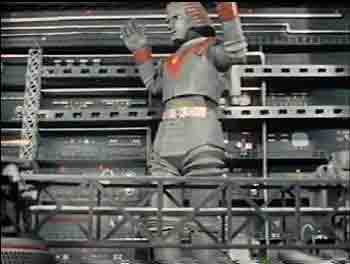 ka-khang!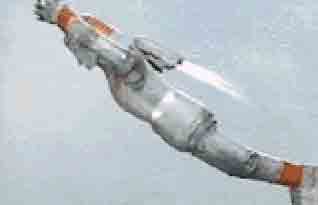 (too too to too, too too to too, to to too to too too...)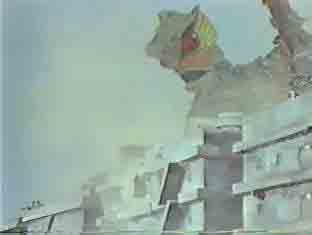 Dracolon: BWARRRRGOOIE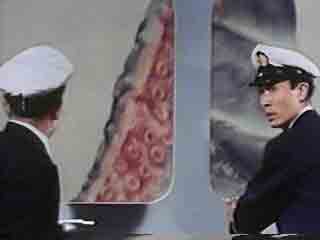 Military Official: ...and like I said, we need these reports filed by Thursday, because they need to go out by... what the hell is that??
Other Official: I believe that is the reproductive organ of a giant creature from outer space, sir.
Military Official: Whew. For a second there I thought it was something freaky.
Other Official: You'll never hear me say this job is boring, sir.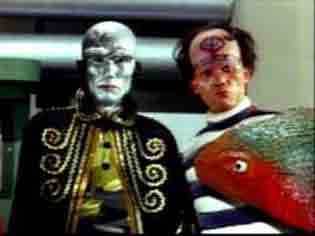 Fangor: Our plan seems to be working perfectly.
Dr. Botanus: The unleashing the monsters thing? Well, it's not so much a plan as it is the exact same thing we've been doing every episode.
Fangor: They'll never see it coming.
Dr. Botanus: Right you are. You know, we should start a boyband together. I'll be the "cool rebellious one" and you can be the "cute boy-next-door". Hey, don't look now, but there's a weird red creature trying to eat you.
Fangor: Oh, no, I'm not falling for that one.
Dr. Botanus: I swear. Just look down. It's got this really evil-looking eye that I'm trying hard not to stare into.
Fangor: I'm not going to look.
Dr. Botanus: Fine, have it your way. Mental note: change "boy-next-door" to "half-eaten moron".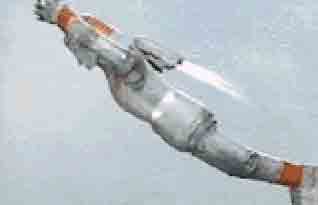 (too too to too, too too to too, to to too to too too...)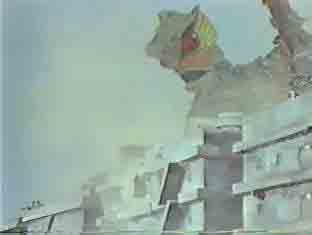 Dracolon: HOOWAAAAGARGLE!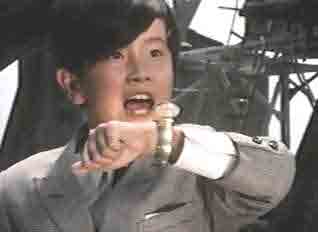 Johnny Sokko: Come on Giant Robot!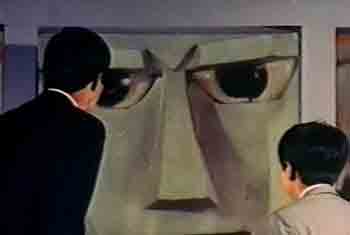 Johnny Sokko: Huh?
UNICORN Commander: Johnny, why is your dumbass robot standing outside our window?
Johnny Sokko: I don't know, sir. It's quite a moron that way. Needs everything spelled out. Giant Robot! Go fight bad monster!
Giant Robot: ...
Johnny Sokko: Now.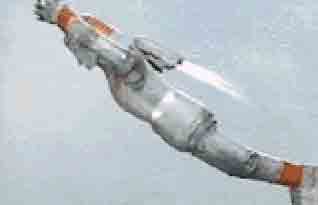 (too too to too, too too to too, to to too to too too...)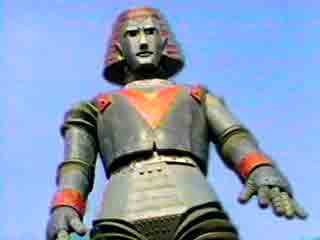 kah-chunk!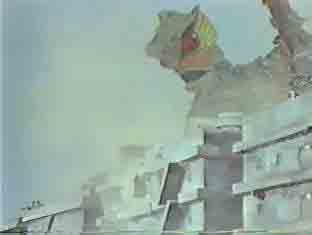 Dracolon: WAFFARGGNNN?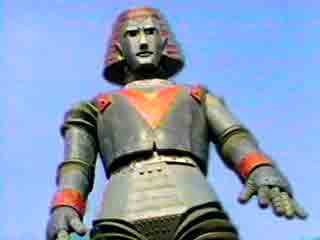 Giant Robot: ...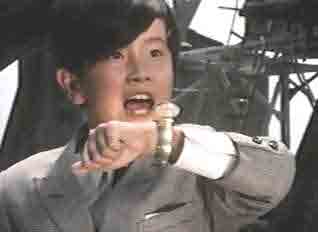 Johnny Sokko: Go Giant Robot!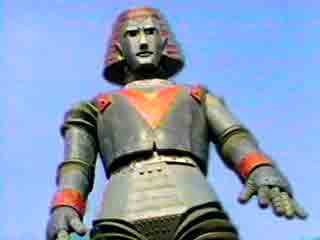 Giant Robot: Raises left hand (ka-chunk). Raises right hand (ka-chunk!) Moves left foot in (whump!) Moves right foot out (thoooom!)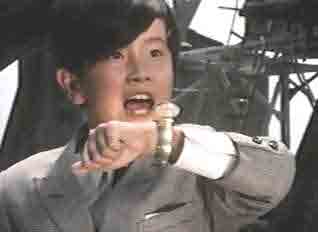 Johnny Sokko: Fuck you, Giant Robot! Stop doing the goddamn hokey-pokey before every fight, and start kicking some ass!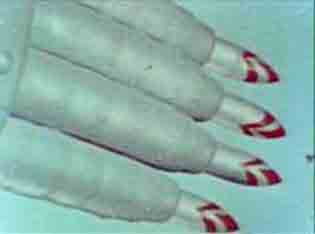 Giant Robot: (missiles slide to fingertips... kah-khank! kah-khank!)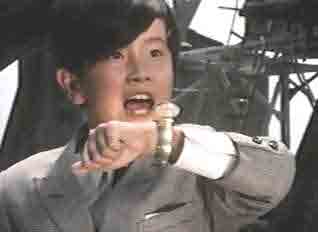 Johnny Sokko: Finally! Now fire them! Fire them! Do it, bitch!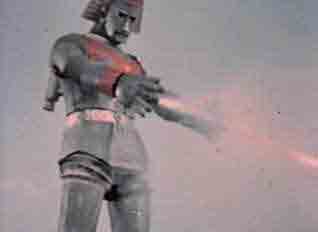 Boom! Boom! Boom!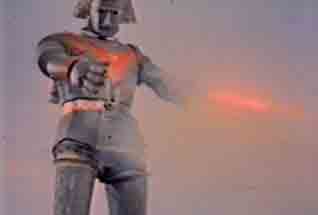 Boom! Boom! Boom!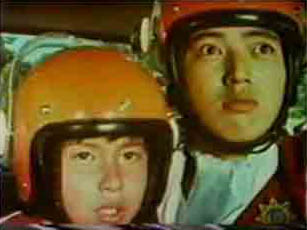 Johnny Sokko: Hi Jerry. See how quickly I changed into the UNICORN uniform while Giant Robot was fighting? Do you think they'll give me another helmet?
Jerry: We've been informed that there are some Gargoyle henchmen on an island south of here. Let's fire up our jet packs and fly down there.
Johnny Sokko: We have jet packs?
Jerry: Not just that, we also have the cheesiest flying special effects ever. Up, up and awaayyy...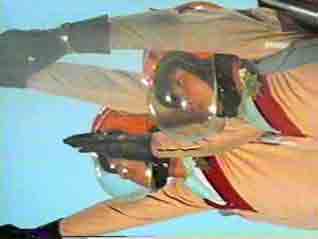 Johnny Sokko: Wow, these really are crappy special effects. If I didnt know better, I'd swear we were just standing with our arms in the air.
Jerry: Your helmet is shiny.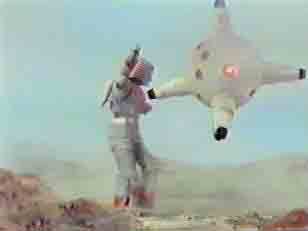 Nucleon, the flying ball monster heads towards Giant Robot, who swings, and....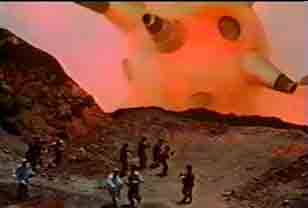 POW!
Random person #1: Shit, it's a flying ball monster!
Random person #2: Err... are we good guys or bad guys?
Random person #1: Who cares? Run, you fool! It's a giant ball!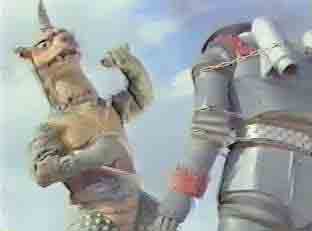 Ligon-Tyrox: WOOARRRGGHH
Giant Robot: ...
Ligon-Tyrox: GHORRHAAAA
Giant Robot: ...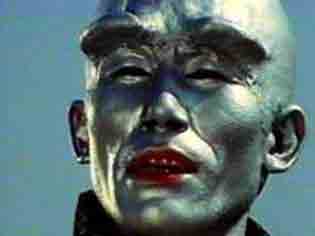 Dr. Botanus: Johnny Sokko is right; the robot is a bloody moron. Can't do a thing without instructions. Just get it on, already!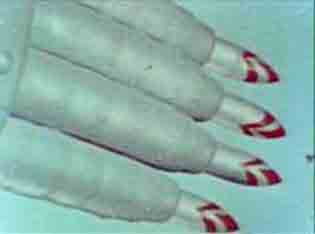 Giant Robot: (kah-khang! kah-khang!)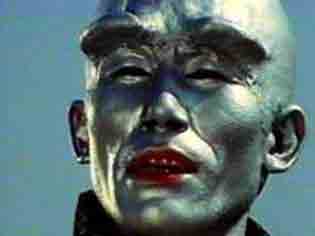 Dr. Botanus: Oops.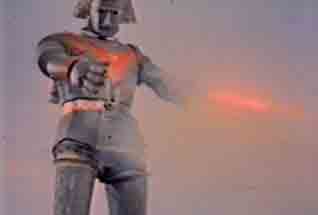 Boom! Boom! Boom!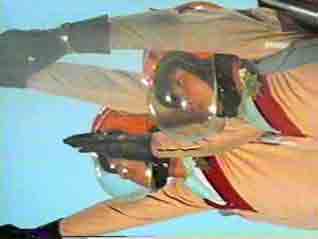 Jerry: The island is directly below us, Johnny. You go ahead down, I need to go take a piss.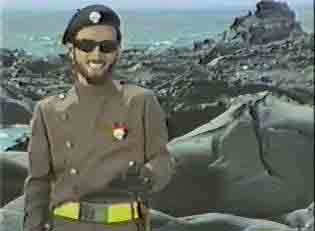 Beatnik Bad Guy: Hands up, Johhny Sokko. You've foiled the Gargoyle Gang's plans for the last time. Prepare to die.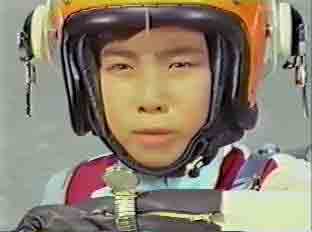 Johnny Sokko: What are you going to do?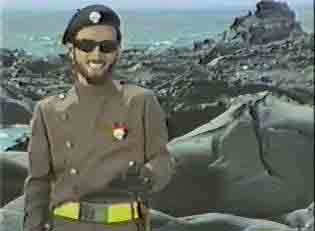 Beatnik Bad Guy: I am going to read to you from Allen Ginsberg's Howl.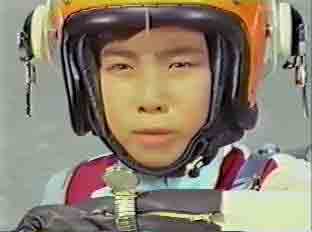 Johnny Sokko: I don't think so.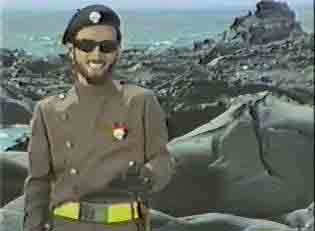 Beatnik Bad Guy: We'll see about that. Moloch! Moloch! Robot apartments! invisible suburbs! skeleton treasuries! blind capitals! demonic industries! spectral nations! invincible madhouses! granite cocks! monstrous bombs! Moloch whose mind is pure machinery! Moloch whose blood is running money! Moloch whose fingers are ten armies! Moloch whose breast is a cannibal dynamo! Moloch whose ear is a smoking tomb!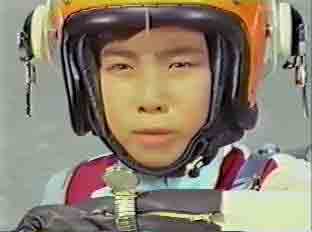 Johnny Sokko: Come on Giant Robot!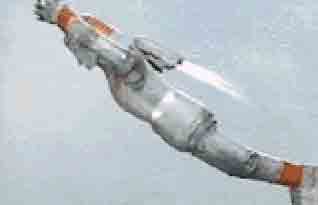 (too too to too, too too to too, to to too to too too...)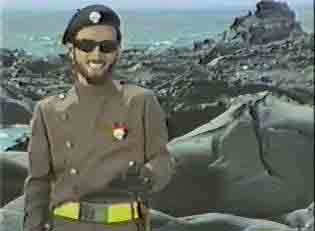 Beatnik Bad Guy: ...I'm with you in Rockland where we wake up electrified out of the coma by our own souls' airplanes roaring over the roof they've come to drop angelic bombs the hospital illuminates itself imaginary walls collapse. O skinny legions run outside O starry-spangled shock of mercy the eternal war is here O victory forget your underwear we're free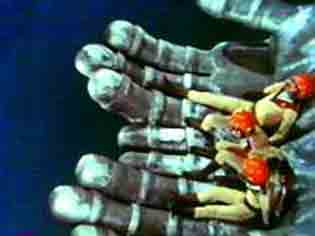 Johnny Sokko: Oh hi, Jerry. We escaped just in the nick of time. Take us home, Giant Robot!
Jerry: Oh hi, Johnny. I was just about to take a piss. Did I miss anything?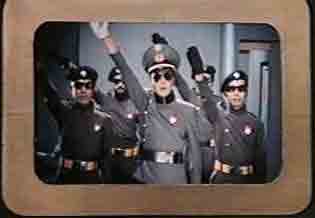 Bad Guys: Can we put our hands down now, sir?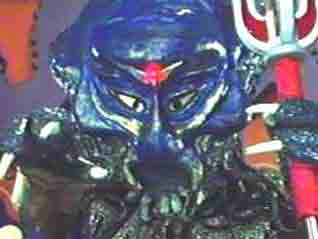 Emperor Guillotine: I think I just pooped in my pants.